Perpetual Care
THE NEED…IN 1836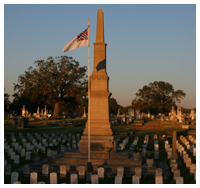 In 1836, in the midst of one of Mobile's devastating yellow fever epidemics, and faced with the Church Street Graveyard full, the City of Mobile purchased land outside the city limits for a new municipal cemetery. This was the first of a number of land acquisitions that now comprise Magnolia Cemetery's more than 100 acres.
THE NEED…NOW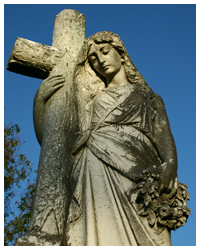 When Mobile was small, the City was able to maintain the Cemetery in good condition and, by tradition, families assumed responsibility for the upkeep of their own lots. Provision for perpetual care was unheard of, and unnecessary. But, as the years passed, fewer people maintained their own lots, as families moved away, family lines died out, and as customs have changed. Therefore, the continued natural growth of trees, grass, and weeds transformed the burial acres into what resembled a neglected jungle. Interspersed, and often hidden within this morass were magnificent pieces of marble statuary, Victorian headstones, and handsome iron grillwork fences surrounding imposing mausoleums. Something had to be done.

WHAT IS THE ANSWER?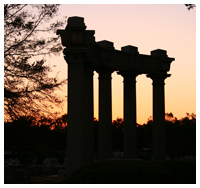 The establishment of a Perpetual Care Trust Fund was the only permanent solution to correct the neglect and deterioration which Magnolia Cemetery had endured for so long. Recognizing the need for such a Trust Fund, the Friends of Magnolia Cemetery, under the auspices of the Historic Mobile Preservation Society, was incorporated. Its express purpose is the restoration of the Cemetery to its deserved position of dignity and beauty, and the establishment of a program of perpetual care for its maintenance forever.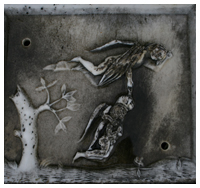 In April 1987, the Mayor and City Council approved a contract with the Friends to operate the cemetery and to establish a Perpetual Care Trust Fund. The funds provided under the contract are adequate for routine maintenance, but a substantial Perpetual Care Trust Fund is necessary to ensure permanent high-quality care. Two other Southern cities, Natchez and Charleston, have built up and are using such funds with excellent results. Both these cities began their Trust Funds as we have.

WHAT CAN YOU DO TO HELP?
Join with the Friends of Magnolia Cemetery in helping to create a Perpetual Care Trust Fund.
To achieve the long-term goal of the Trust Fund, tax deductible funding is essential not only from lot owners, but also from private citizens, businesses, and charitable foundations. If desired, pledges can be spread over a period of time.
The Perpetual Care Trust Fund is legally empowered to accept bequests, stocks, bonds, and other non-cash gifts. The fund is administered through a local financial institution.
Your help in establishing the Perpetual Care Trust Fund will preserve Magnolia Cemetery's historic and aesthetic heritage, and ensure that the Cemetery will remain a place of serenity and beauty forever. Please contact us at 251-432-8672, so that a member of the Friends staff can explain the Perpetual Care Trust in specific detail.